GIVING BACK
---
Keith Mosing's sense of gratitude, born out of his down-home Louisiana roots, has had a large impact on his business and the lives of those around him. From scholarships to karate, the Mosing family bless others because they have been blessed.
Keith Mosing was honored by Embry-Riddle University with the Philanthropy Award in 2012 for his contributions, including two student scholarships: The D. Keith Mosing Family Scholarship and the D. Keith Mosing Business and Management Fellowship Fund.
At Frank's International, the Mosings showed their appreciation for family by providing scholarships to the University of Louisiana for the children of Keith's employees.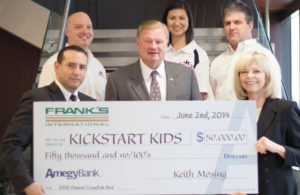 Keith Mosing serves on the Board of Directors of the non-profit organization, Kickstart Kids, an organization that aims to teach kids character though Karate. The organization focuses on giving middle school students the tools and support necessary to resolve conflicts, avoid participating in gangs, choose a drug-­free lifestyle, resist negative peer pressure, and remain in school until they graduate.
Keith Mosing also serves on the Board of Directors for the Memorial Hermann Hospital Foundation where the Mosings have given back with their home, time, and money to The Texas Fetal Center.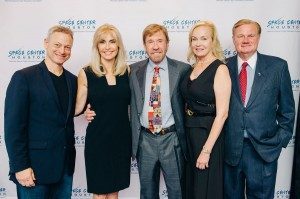 Keith's wife, Alice Mosing, sits on the board of the Space Center Houston, the cornerstone of Manned Space Flight Education Foundation science education mission.
She is a one of Nearly 100 prominent and influential women from across Houston have united to form a guild to carry forth First Lady Barbara Bush's legacy by supporting the Barbara Bush Houston Literacy Foundation's mission of improving lives through the power of literacy. Called Ladies for Literacy, founding members of this service-oriented guild recently held their inaugural meeting over tea with First Lady Barbara Bush.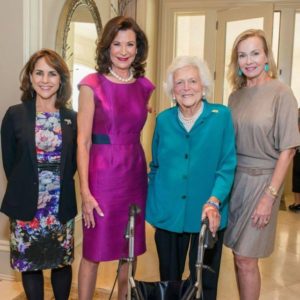 The women discussed ways to advance the literacy cause and to support the Foundation's efforts by raising awareness, mobilizing volunteers and supporting effective literacy programs. Maria Bush, Betty Hrncir and Alice Mosing hosted the event at the lovely home of Keith and Alice Mosing in River Oaks.
MOSING GROUP
The Mosing Group is a family of companies primarily involved in real estate investments. From office buildings to ranches, The Mosing Group owns a diverse set of properties across the United States.
CONTACT
10260 Westheimer Road, Ste. 200
Houston, Texas 77042
P: 713-784-8145
E: info@mosinggroup.com