A STORY OF PERSEVERANCE AND THE AMERICAN DREAM
---
With a strong sense of core values and hard-work, The Mosing Family came from modest beginnings to become a prominent leader in the oil field service business for nearly 80 years.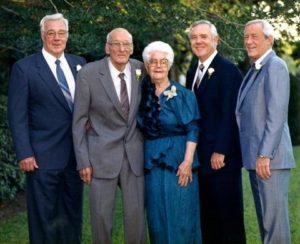 In 1938, Frank Mosing, a farmer from Oklahoma was seeking work in the midst of a drought. He had experience in the oil pipeline-laying business but was unable to find local work. Frank was offered a job by a man in Louisiana, which led to a move south for the entire family. Eager to begin work upon arrival, Frank sought out the man who had hired him, only to find that the man had disappeared, leaving him without work and a way to support his family.
With no other employment options lined up, Frank took a chance, using a small amount of cash and his prior knowledge of the business, and founded Frank's Casing Crew & Rental Tools out of his Louisiana garage. As the family business continued to grow, Frank's son, Donald, worked beside him learning the ins and outs of each of the services and products that the company provided. As a young father, Donald brought his own son, Keith, along on work days, passing on not only his skills as a mechanical engineer but also the deep core values that set them apart in the business.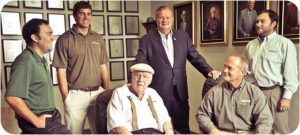 In 1960, Frank's moved into the first building of its own. After the move, they hired an employee, who remains with the company to this day. Although they began as an oil well casing company, over the years Frank's expanded into a variety of oil fields services, such as manufacturing pipes and connectors for oil and gas wells.
Keith led the company in their next major expansion to Texas in the early 1970s, where many of their clients were moving to. Over the next decade, they would continue to broaden their impact by opening offices throughout Texas and into Oklahoma and soon, internationally.
Keith says the company is and always has been deeply rooted in family, and not just their own family. He explains that they have three generations of employees who have grown with the company from the start. They consider the employees of the company to be its most valuable asset.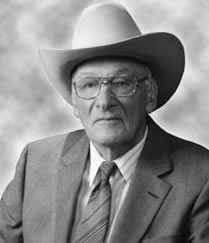 In August of 2013, the family company hit a new milestone when it went public and netted $712 million in proceeds at its initial public offering. The family continues to remain involved in the company and they expect the legacy of Frank Mosing to live on through the core values and well established foundation that has brought them through to this day.
MOSING GROUP
The Mosing Group is a family of companies primarily involved in real estate investments. From office buildings to ranches, The Mosing Group owns a diverse set of properties across the United States.
CONTACT
10260 Westheimer Road, Ste. 200
Houston, Texas 77042
P: 713-784-8145
E: info@mosinggroup.com